 At Ligon Marketing, our team of experts developed multiple trusted marketing strategies and concepts for Double M Aviation that includes the following:
Located in Lakeland, FL, Double M Aviation is a leader in aircraft maintenance, aircraft repair, and aircraft inspection. Providing the highest quality services for aviation enthusiasts in Central Florida and beyond. Double M has worked with Ligon Marketing to attract customers who own single engine, multi-engine, pressurized piston, and turbine-powered aircraft. By creating the following, our team of experts has been able to develop multiple cohesive marketing strategies and concepts for this unique client.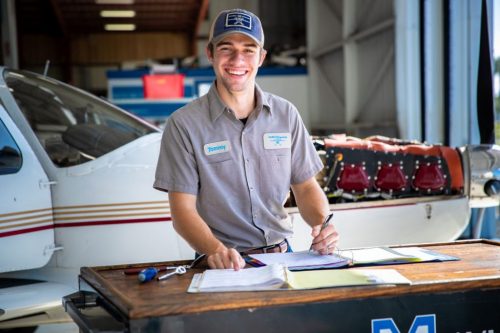 Double M Aviation partnered with Ligon Marketing to reimagine an online brand that would speak directly to a niche audience of aviation aficionados. We started by re-designing their logo and brand guide, which better suited the client's vision for their brand. Then, our team of web developers, content curators, and graphic artists created an interactive website including original SEO-rich content, dynamic photography, video, and intuitive back-end reporting capabilities. The end result? A robust and engaging digital footprint that matches the uniqueness of this exceptional client.
Being a staple at the Lakeland Linder International Airport, and in the Central Florida community, Double M Aviation has been involved in either hosting or sponsoring events for several years. Upon establishing a relationship with Ligon Marketing, Double M Aviation expressed their desire to raise the bar and take their events to the next level. By utilizing compelling video, photography, advertising, email marketing, social media, graphic design, promotional items, and on-site signage, we handled all the logistics of their major events from start to finish. We also provided members of our staff on the day of their events to help everything run smoothly – from setup to tear down, and everything in between.
Custom Newsletter Creation
As a trailblazer in their industry, Double M Aviation wanted to communicate exclusive news and consumer advice in an innovative and creative way. By researching online platforms and working closely with our graphic design team, Ligon Marketing created and designed a custom newsletter with the viewing capability of online and in print. We also curated original content and generated novel articles that both captured Double M's brand personality and the targeted audiences' attention. Additionally, we utilized a system that has allowed us to engage consumers with interactive features such as video, polling, and backlinking. Then, to measure our success, we segmented audiences by industry and type, and provided ROI reporting to give insight into the feat of the campaign. From there, we made follow-up recommendations for future campaign implementation.